Welcome to the official website of The Center for Social Work Kozarska Dubica!
The Center for Social Work Kozarska Dubica is a public institution that provides complete expert-methodological support in prevention and resolution of complex human problems and needs  to various categories of  population.  Holders of professional activities at the Centre are professionals who are trained in the individual and team work with the beneficiary.  Social workers are professionals whose education and practice implies knowledge and application of the expertise in the fields of social work, psychology, law, social medicine, pedagogy, philosophy and other social sciences and humanities, as well as specific skills, techniques, and methods. Through the application of a multidisciplinary approach to work, in a team with a lawyer and a psychologist of the Centre, highly professional services are ensured with respect for codes and ethics of social work. By applying the principles of justice with respect for human rights and diversity, our goal is the development of social protection and the improvement of social services, developing a network of cooperation with beneficiaries, other institutions, agencies, authorities and NGOs. At the core of social work are the individual and the family, not only as a client and a user of rights and services, but as equal partners in creating social policy, with all relevant institutions in the local community, according to needs. In addition to providing high-quality implementation of rights and services, our goal is a strengthened individual and family, worthy of equal social status, social inclusion and economic security.
Acting Director Maja Špica, licentiate social worker
Activities of the Center are:
88.10 social work activities without accommodation for the elderly and persons with disabilities,
88.99 other social work without accommodation.
In the implementation of social and family care and provision of social services center performs the following tasks:
– solves  in the first degree the  realization of rights in the field of social protection,
– solves in the first degree the realization of rights in the field of ​​child protection,
– solves  in the first degree the realization of rights in the field of family protection and custody,
– provides social, psychological, pedagogical,  special education and administrative and legal work in the process of deciding about the rights in the frame of its activities,
– performs payment of financial rights as defined by regulations on social protection.
The center, next to these functions, performs professional tasks in implementation of  social welfare and social work, family care and child protection, as follows:
– detects and monitors the social needs of citizens and problems in the field of social protection,
– proposes and undertakes  measures to meet the social needs of citizens and monitors their implementation,
– organizes and implements convenient  forms of social protection and child protection and directly provides services of social protection  and social work,
– develops  and improves preventive activities that contribute to preventing and suppression of  social problems,
– provides diagnostic services and implements appropriate treatment, counseling and therapeutic services and professional assistance to beneficiaries,
– works on the establishment of family counseling centers to provide services to family and an individual,
– encourages, organizes and coordinates professional and voluntary work in the field of social protection,
– works on implementation of  the corrective measures towards underage,
– works  on the selection and application of upbringing recommendations for underage,
– keeps records and documentation about services provided and measures taken within the frame  of their activities,
– works on the development  of partnership  between various stakeholders in the community that provide social services,
– works  on the development of various models of care for beneficiaries in the community and social services in accordance with the needs of beneficiaries,
– performs some other tasks established by the law and the decision of the Municipal Assembly.
The Ministry of Health and Social protection  determines norms and standards for performing the activities of the Centre in the exercise of public authority.
About us
The Public Institution Center for Social Work Kozarska Dubica was established by the decision of the Municipal Assembly of Bosanska Dubica in 1977. After harmonization of activities with law on public services as well as other current legislation, it was registered at the District Court of Banja Luka in 2014. Activities of The Center were defined by the Law on Social Protection and the Law on Child Protection,the Family Law, The Law on Protection of Domestic Violence, the Law on Protection and The Law on Treatment of Children and Juveniles in Criminal proceedings, decisions on additional forms of social protection of  Municipality of  Kozarska Dubica and the Statute of the Centre which is consistent with the Law on Public Services
For the performance of professional duties and tasks within the scope of work, in the Centre are organized combined performances of professional activities on the territorial and referent principle, while lead, general, technical and auxiliary are organized by groups of activities and tasks.
The center has 10 employees in permanent employment of which are: one  Master of Science of Social Work, seven with a university degree and two employees with the fourth degree of secondary education. The Centar is located in at the premises  within a residental building, with the area of 120m², of which the part is owned and part leased. There are seven offices, entrance hall, common room with kitchenette, space for archives. Rooms are equipped with the suitable office furniture. The Public Institution Center for Social Work Kozarska Dubica is located at Mihajla Pupina bb, Kozarska Dubica (zgrada solidarnosti).
Staff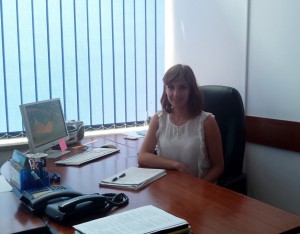 Acting  Director Maja Špica, licenced social worker
Graduated in Social Work Studies, as a full-time student, a four-year study, completed at the Faculty of Philosophy, University of Banja Luka and earned  the title of social worker. She is a final year student at the Faculty of Political Science,  at master studies of Social Work, University of Banja Luka. Specialization in the field of psychotherapy – Transactional Analysis – TA 101. Employed in the Public Centre for Social Work in Kozarska Dubica, on matters of social work and social protection since November 2008.  Acting director since the first of July 2015.
Professional associates:
Mr sci. Vesna Mijić, social worker
Radmila Došenović,  BSc. Manager at social politics and social protection
Smilja Prodanović, BSc. Manager at social politics and social protection
Milan Burazor, BSc. social worker
Ivana Milošević, BSc. social worker
Azra Milunović, pedagogue – psychologist
Senka Jujić, BSc. Lawyer
Administrative tasks:
Nataša Milovčević, child protection officer, protocol and archive
Mira Kljajić, accounting and finance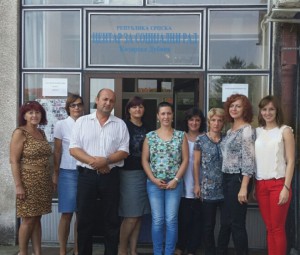 CONTACT – The Public Institution  Center for Social Work Kozarska Dubica
Address: Mihajla Pupina bb 79240, Kozarska Dubica (zgrada solidarnosti)
Contact tel. Director: + 387 52 424 050; + 387 65 853 430
Phone: + 387 52 416 755; + 387 52 424 052
Fax: + 387 52 424 051
e-mail:
The Law defines the beneficiary of rights in the social protection system as any person having found himself/herself in a state of social need who meets the statutory eligibility criteria. The Law on Social Protection recognises two main groups of beneficiaries:
CHILDREN: without parental care, with developmental disabilities, whose development is hindered by family circumstances, victims of violence, victims of child trafficking, with socially unacceptable behaviour, exposed to socially risky behaviour, who are in need of social protection due to exceptional circumstances.
ADULTS: persons materially unprovided for and unfit for work, persons with disability, elderly without family care, persons with negative social behaviour, victims of psychoactive substance, victims of domestic violence, victims of human trafficking, and persons in need of social protection due to exceptional  circumstances.
RIGHTS – The rights established in social protection are being realized by cash benefits, social services and other measures provided for an individual, a member of a family or family as a whole. The rights are personal and not transferable to others. The social protection rights belong to the persons who meet the prescribed requirements, regardless of differences in race, skin color, sex, language, political, national and religious affiliation, social and economic origin, place of birth, disability or any other status. The Law on Child Protection: salary compensation during maternity leave, salary compensation for work on shortened working hours, maternity allowance, assistance in equipment for newborn, child allowance (for the second, third and fourth child), meeting the developmental needs of children, pre-school education for children without parental care, children with disabilities and children on lengthy medical treatment, rest and recreation for children under 15 years of age in children's resort. The rights in social protection are: financial assistance, assistance for aid and care of another person, support the equalization of opportunities for children and youth with disabilities, placement in an institution, foster family care, help and care at home, day care, one-time financial assistance, counseling. Activities in the field of ​​The Family Law: conciliation spouses, leave of the children from the marriage and cohabitation, regulation of personal relations between parents and children, custody, adoption.
SERVICES – services in social protection imply procedures to help customers to activate their own potentials in the community, preclusion  of depending on social protection and reducing the risk of social exclusion. The Center for Social Work provides services related to the protection of persons from domestic violence, placement in an institution and another family, home help, day care (day care center for underage), counseling. With the decision on the extended rights  the service of personal assistance was provided.